Christmas is a traditional Western holiday. People celebrate together on this day every year to commemorate the birth of Jesus Christ. It is also a secular holiday commonly celebrated.
In the 19th century, the appearance of Christmas cards and Santa Claus made Christmas gradually popular. Then Christmas began to be celebrated throughout Europe and America, and the corresponding Christmas culture was derived. After the reform and opening up, Christmas was introduced to China and organically combined with Chinese customs.
Eating apples, wearing Christmas hats, sending greeting cards, aroma diffuser gift, and attending Christmas parties have formed a part of Chinese life. Other type of gifts such as Ultrasonic Diffuser, Glass Diffuser, Car Diffuser, Home Diffuser, best for your family, friend, lover.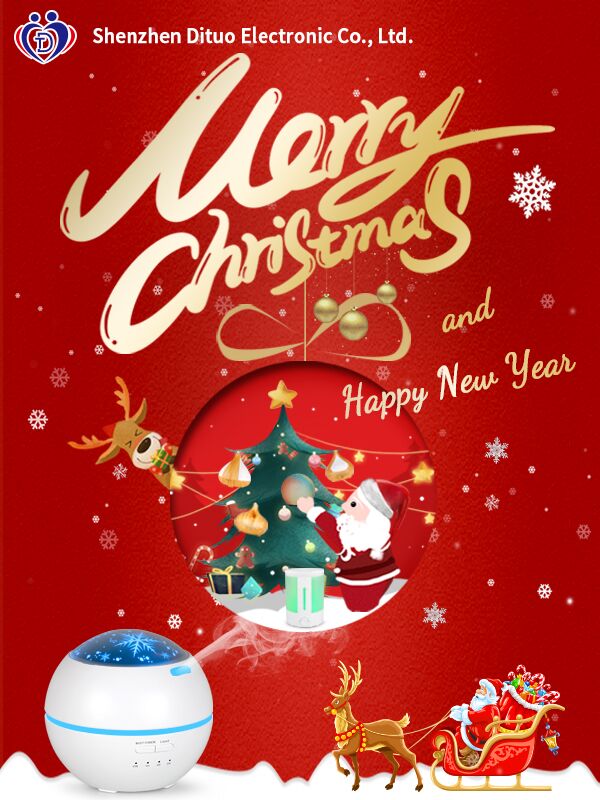 Shenzhen Dituo Electronic Co.,Ltd.
Business Type:Manufacturer
Product Range:Humidifiers , Humidifiers
Products/Service:Aroma diffusers , Air Humidifiers , Scent diffusers , Essential oils , Air cooler , Air purifier
Certificate:ISO9001 , CE , EMC , FCC , MSDS , REACH , RoHS , Test Report , BSCI
Company Address:No.372 Donghuan Rd. Shajing, Baoan, Shenzhen, China 518125, Shenzhen, Guangdong, China
Previous:
Aroma Diffuser-Dituo 2020 Year-end Summary Meeting
Next:
Merry Christmas Eve-Aroma Diffuser