What is the difference between Dituo humidifier and other humidifiers?
"Noise reduction, silent, energy saving, power saving, peace of mind"
Although some humidifiers have high power, they produce too much noise, which can easily affect the rest at home. Combat humidifier uses noise reduction and silent technology. During use, it is not only noiseless, but also very energy-saving and energy-saving. There is no "worries about the future" when sleeping, and you can concentrate on work, allowing you to have a quiet and comfortable experience.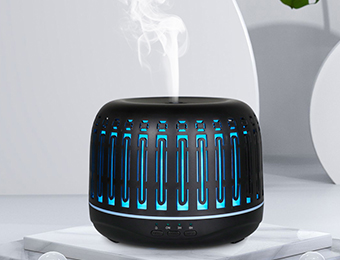 "Small figure, dense mist, fresh and moisturizing"
The amount of mist produced by ordinary humidifiers is very small, and the water mist is only a little bit, which is only useful in a small area, and it will not be effective if it is changed to a larger place. The Dituo humidifier can humidify intelligently, the atomization is very delicate, and it can enjoy the fresh air more quickly and freely when using it, and it also has the function of spraying and moisturizing.
"Long battery life, hydrating all night without stopping"
Compared with those humidifiers that have a battery life of only two or three hours, have a short battery life, and need to be constantly reset. The Dituo humidifier can stand by for an extra 14 hours, and the humidification time is long. Fill up the water tank before going to bed, enjoy the moist and comfort, and don't worry about drying out all night.
Adding some Essential oils to the humidifier, combining the advantages of the two, will have a better effect on the human body. For example, rosemary can relieve fatigue, mountain lemon can whiten oil and control oil, geranium can prevent colds and so on.
Shenzhen Dituo Electronic Co.,Ltd.
Business Type:Manufacturer
Product Range:Humidifiers , Humidifiers
Products/Service:Aroma diffusers , Air Humidifiers , Scent diffusers , Essential oils , Air cooler , Air purifier
Certificate:ISO9001 , CE , EMC , FCC , MSDS , REACH , RoHS , Test Report , BSCI
Company Address:No.372 Donghuan Rd. Shajing, Baoan, Shenzhen, China 518125, Shenzhen, Guangdong, China
Previous:
Family fashion fragrance design, aroma diffuser is better than perfume
Next:
Household mini humidifier, let health go with you