How to operate the Aromatherapy Diffuser?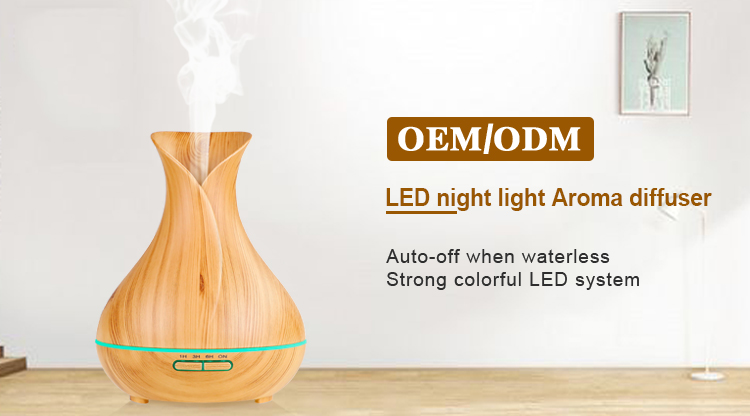 1. Position the Aroma Diffuser upright, pull upwards to remove cover.
2. Connect AC adaptor power cord into the DC input jack at the base of the Aroma Diffuser. It is suggested to route cable via track provided.

3. Pour water and Essential Oil into Aroma Diffuser. DO NOT fill above the "MAX" marking 400ml. DO NOT use boiling water. DO NOT fill when power is on. It is recommended to add 2-3 drops of essential oil for each 100ml of water.

4. Set the cover back on the base. Spout is adjustable to guide aroma into desired direction. Aroma Diffuser must NOT be operated without the cover.

5. Plug diffuser into power outlet.

6. To turn on mist, press "MIST" and choose operation time required ( Timing: 1H/3H/6H/ON). Mist level is adjustable by hard-pressing "MIST" until the Aroma Diffuser beeps (One beep for high and two beeps for low). To switch off, continue pressing "MIST" through the cycle until it is off. (1 hour -> 3 hour -> 6 hour -> ON Continuous -> Off).

7. Press "LIGHT" turn on LED light. Brightness is adjustable through the following cycle. (Bright -> Dim -> Off)

8. It is recommended to drain water from tank and keep dry when not in use.

9. Diffuser will automatically shut off when there is insufficient water.